Ultius is an established American company based in Las Vegas, NV. Many students who are looking for writing help choose Ultius.com because it's one of the most popular writing services.

The main reason why this service is so popular is the company's strong marketing strategy. Customers' reviews, however, are not always great.
When students search for writing services, they want to find a service that can provide high-quality papers at affordable prices. They want professional support, and, most importantly, they want the chosen service to be legit.
There are too many writing services on the internet, and not all of them are reliable. There are many scammers and many websites that resell essays over and over again, even though they promise original content. Finding a legit writing service is always a challenge, and even when you see a popular website like Ultius, it may not be actually reliable. Writing services invest a lot of money in their marketing campaigns so if you hear about a certain writing service a lot, it doesn't mean that this is necessarily a great service.
When choosing a writing service, you may also check out online reviews. In this case, however, you may find not only real reviews but also fake ones. I've checked reviews of Ultius.com on many websites, and some of them were good. Fortunately, there were also negative reviews. The thing is that many fake services only have positive reviews because these reviews are also fake. Even the best legit writing services always have a few unsatisfied customers, and there's nothing wrong with that.
The Ultius website is easy to use. On the main page, you can make an order and calculate its price. Here you can also find all the necessary information about the company's services. If you have any questions on how to make an order or what exactly you can order here, the chances are that the home page has the answers.
An interesting thing about this website is that you can not only order papers here but also apply for a job. Apparently, many writers who work for Ultius applied for a job this way. According to the company, they only hire 6% of people who submit their resumes. However, it's difficult to say whether or not this is true. My first impression of this website was rather good, but I've also seen many better sites.
1. Order Process
When you make orders on this website, your papers are written by freelance writers. Ultius simply connects customers with freelancers. Here you can order different writing services, including academic writing of any kind, business writing, and editing. The ordering process, in general, is quite similar to that of other writing services. You can fill out an online form on the home page. Here you can specify the academic level of your paper (high school, undergraduate, Master, or doctoral), the deadline (from three hours to 60 days), and the number of pages.
This service also offers several options regarding writers. You can choose the "Best Available Writer" option, or you can request a graduate writer. If you like a particular writer's work, you can also choose them. The company claims that all its writers are Americans with the necessary experience in their field. If you're not satisfied with your order, you can request a revision. However, I recommend that you make sure to check the Terms and Conditions first. Ultius also has a money-back guarantee, and I will consider it in more detail later.
You can pay for your order with Visa, Mastercard, Discover, or American Express. Once you've completed the order form and paid for your order, the company starts to look for a writer. A good thing about the ordering process is that you can see the price of your order immediately. This service is not cheap, but the whole process is straightforward so you won't be unpleasantly surprised when it comes to making a payment.
2. Pricing
If I was to recommend this service, I certainly wouldn't do it because of its prices. The prices are rather high. For example, if you want to order a high school level paper, its price will start at $17.50 per page. If you choose a three-hour deadline, the price will reach $60. Besides, the company may not deliver your paper on time, and I will talk about it later. There are many writing services that offer papers of the same or even better quality at lower prices. Therefore, it's not about the quality but simply the company's attempt to make more money.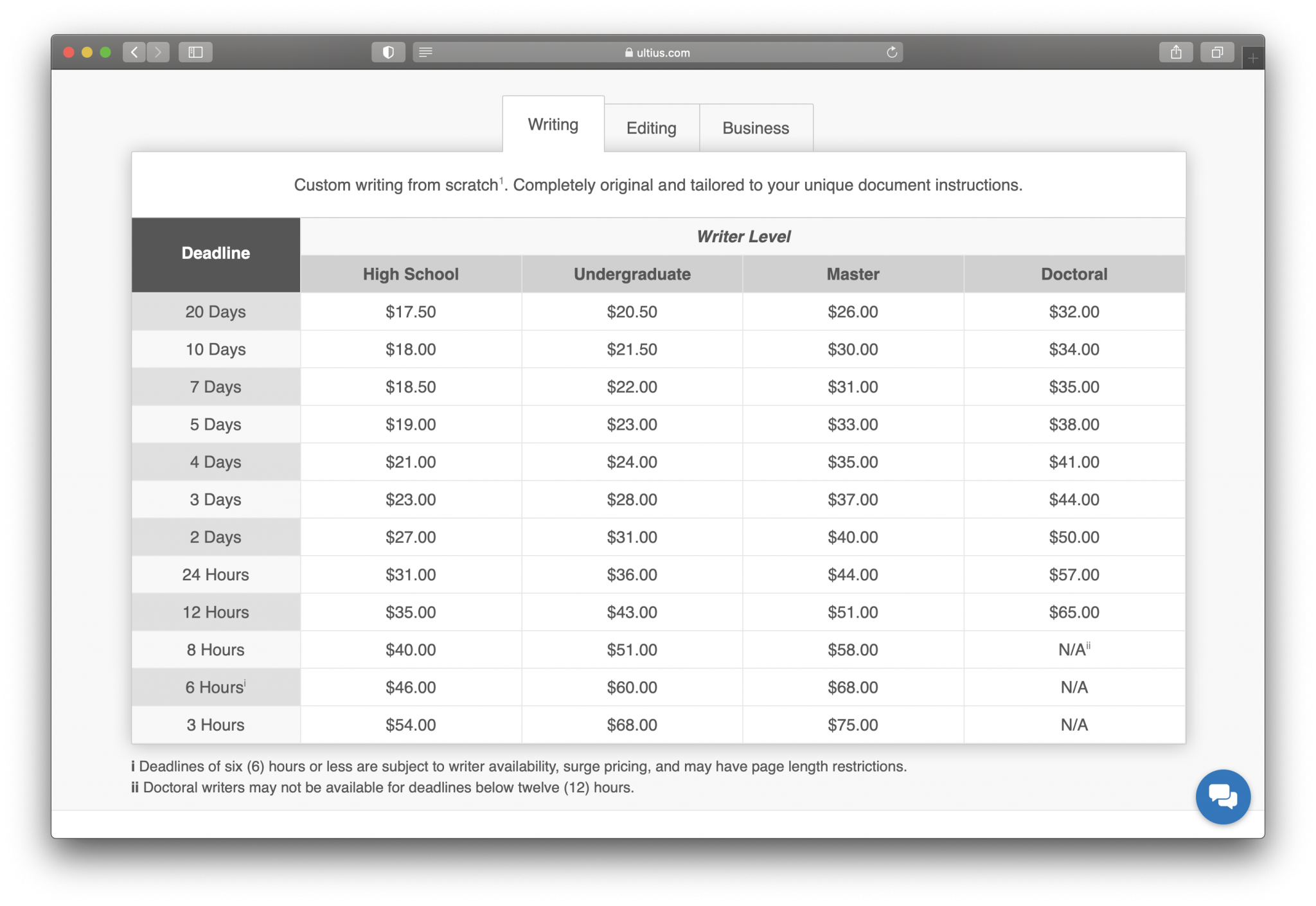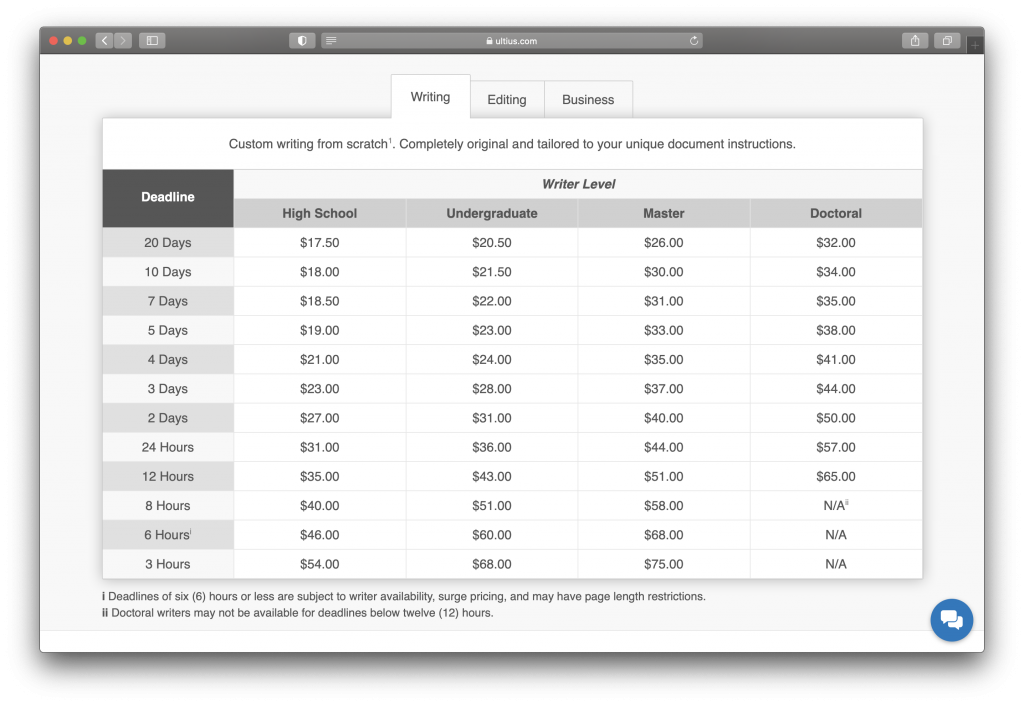 I've already mentioned that you can choose different types of writers. Depending on the chosen option, the price of your order will also change. If you decide to choose the Graduate Writer option, the price of your order will increase by 20%, and the Requested Writer option will add 15% to the cost of your order.
3. Discounts
When you visit the website, a pop-up window immediately offers you a 20% discount. Even though this service has quite high prices, there's no surprise that many students choose it. If you're a new client, you might be able to get your paper at a lower price thanks to such a discount. However, I couldn't find any Ultius coupon codes or discounts for loyal customers. Apparently, the Ultius discount system is limited to encouraging users to make their first order.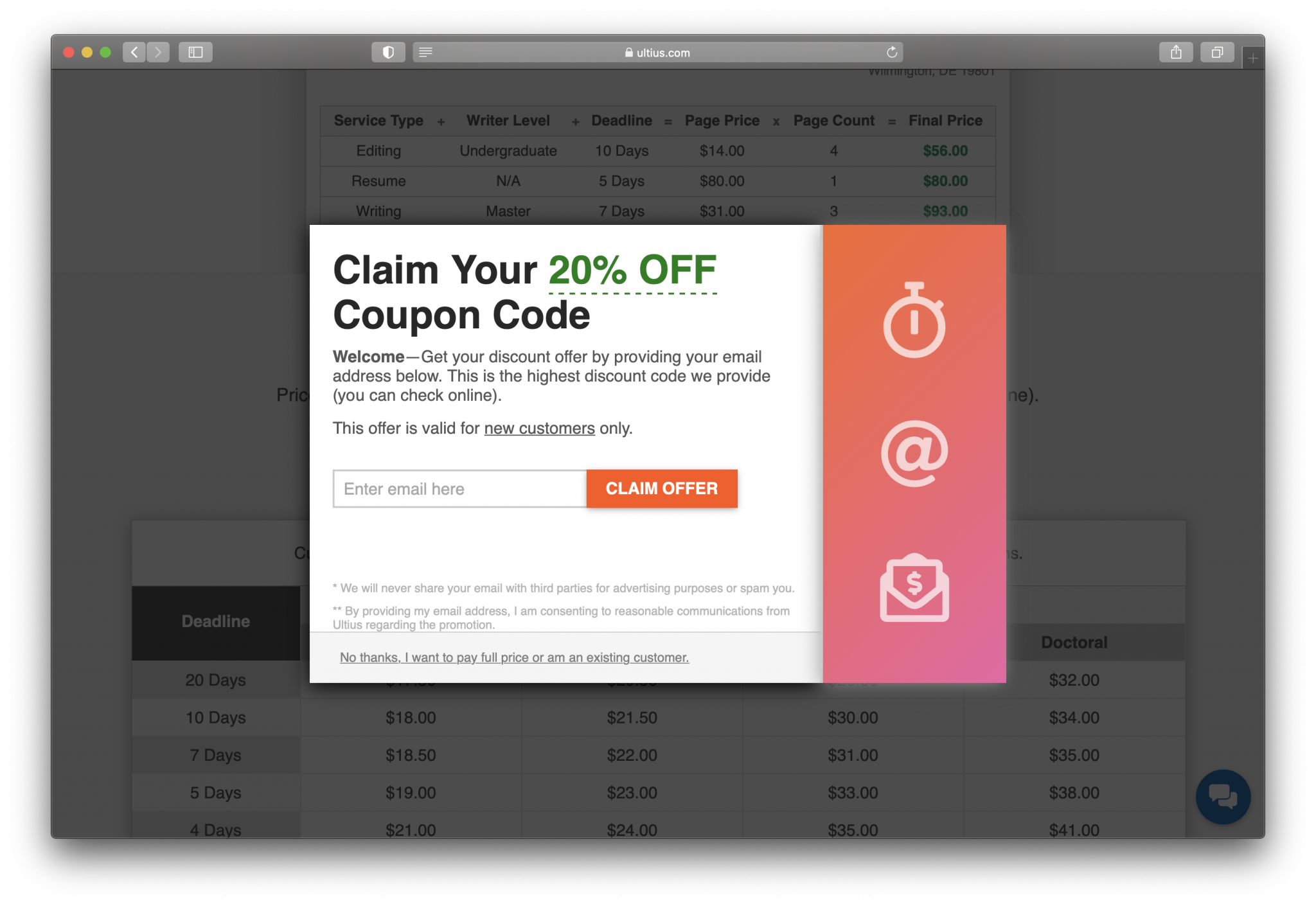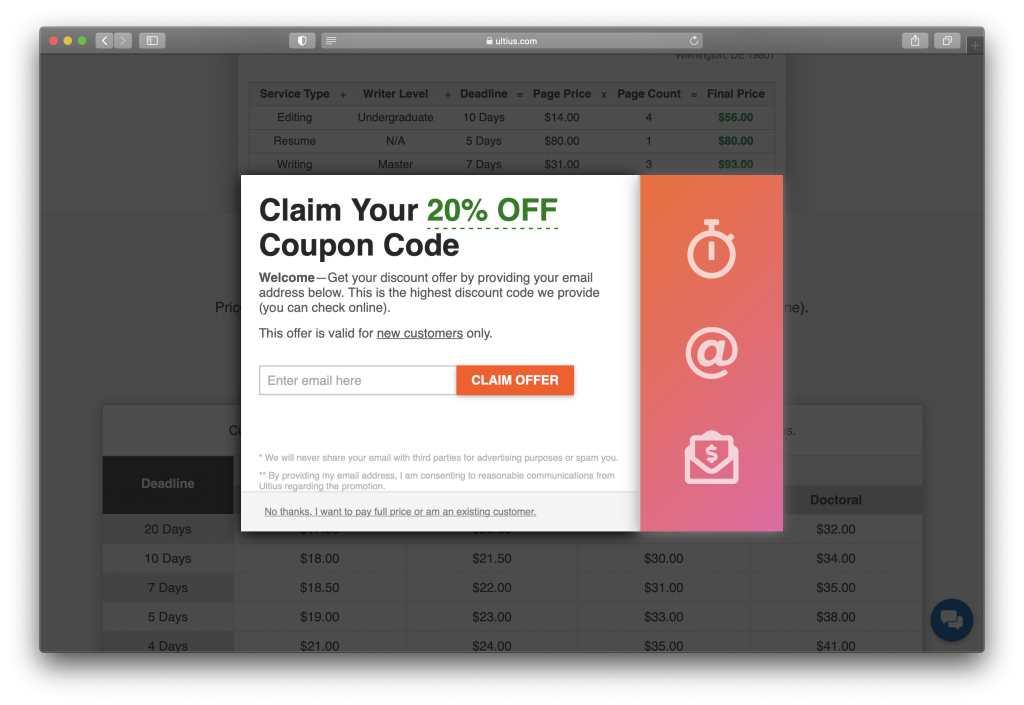 4. Guarantees
As I've already mentioned above, if you're not satisfied with your writer's work, you can request a revision. This is a very common practice among writing services. In fact, only scammers don't offer free revisions. When you buy papers online, you may have a clear understanding of what exactly you expect to get for your money. Therefore, writing services should make sure that you'll be able to get exactly what you want. Ultius offers free revisions, and this is great. The revision policy, however, is quite complicated.
If you make an order on this website, especially if you're a new client, I recommend that you check out the Terms and Conditions in advance. There are many details that determine whether or not you're able to request a revision in each particular situation. For instance, you should make sure to request a revision at the right moment. Keep in mind that, after you receive your paper, you only have one week to submit it for a revision. If your request is accepted, your writer will make edits within three days. Therefore, you should be careful when dealing with tight deadlines.
You should also make sure that the changes that you want to make to your paper don't contradict your initial instructions. This rule is common among writing services and it protects writers from customers who cannot decide what they want. I also recommend that you make your instructions as detailed as possible so that you can prove that your revision request perfectly matches your initial requirements.
I've also mentioned that Ultius has a money-back guarantee. On the one hand, every customer is able to request a refund. On the other hand, the company doesn't guarantee that you will get a full refund. The amount you can get back if you're not satisfied with your order depends on numerous factors. The refund policy is clear but complicated. Fortunately, the company lists the most common reasons why customers request a refund and answers some of the most common questions. Keep in mind that each case is considered individually so you cannot know the amount of your refund until the company considers your submission.
5. Online Reputation
I've read many online reviews, and not all of them are great. Most customers, however, note that the company delivers high-quality papers. When reviewing writing services I always try to read as many reviews as possible to figure out what issues customers experience and how the company deals with these problems. Most often, customers are satisfied with the quality of writing, but some of them didn't receive their orders on time. As a result, customers try to get their money back, but not all of them read the money-back policy in advance so their customer experience gets ruined.
I've also checked out some reviews from writers who've worked for this company in the past. According to them, the majority of Ultius writers are college graduates who need some extra income. Most often, these are talented writers who have great experience in creating academic papers from scratch. However, not all Ultius writers are real professionals.
There are posts on different forums and social media that offer you to buy or sell a verified writer's profile on Ultius. Demand creates its own supply and selling writer's profiles is a common thing in this industry. However, nobody would like to deal with a writer who purchased a profile online and didn't pass any tests to become a verified writer.
This company has mixed feedback from employees. However, most often, writers complain about the lack of orders or about dealing with "boring" high-school papers. There's no surprise that writers who only want to write "interesting" papers quickly realize that this is not the right job for them and leave custom writing. Good custom writers must be able to deal with any paper people order from them. The only bad thing about Ultius is that it doesn't provide writers with proper editorial training.
When I did my research to learn more about this company's reputation, I also came across an interesting fact. Ultius has a scholarship. Thanks to Ultius' program, underprivileged students who cannot afford to pay tuition costs can get $2,000 to pay their loan debts. This is a transparent program with quite flexible requirements, and it's certainly great when a writing service tries to make a difference.
6. Customer Support
You can get the necessary help by using a live chat on the website. Besides, the website has a particular section called Support Desk, where you can find detailed instructions on how to make orders. There is also a lot of information on the policies and rules, and answers to common questions. You can also contact the company via Messenger or phone.
Pros
The quality of the papers is good. Writers do their best to meet customers' expectations.
The website is easy to use. The interface is simple, and the website is transparent about its pricing policy. Besides, you can find answers to many questions right on the website, with no need to contact the support team.
Ultius also has a mobile app so you can use their services from virtually anywhere.
Cons
The prices are quite high so if you're looking for affordable writing help, this isn't an option. The service delivers good papers, but there are also many other legit writing services that deliver good papers at lower prices.
Some users note that they received their papers too late. Besides, you may wait for a revision for three days, which can be a problem if you have tight deadlines.
Summing Up: Is Ultius Legit?
This is certainly a legit company that actually delivers high-quality papers. Even though some of its policies could be improved and its services are somewhat overpriced, this is not a scam. If you make an order on this website, you won't need to worry about getting robbed. Besides, papers are good.
When students wonder whether or not a certain writing service is legit, they also may mean the ethical side of using this service. Is Ultius ethical? Well, the answer depends on how you're going to use the papers that you've bought here. If you purchase a paper written by somebody else and present it as yours, you will cheat and it can be considered academic dishonesty. The company, however, doesn't encourage students to cheat. You can order papers for research purposes to understand what sources you can use in your own paper. You may also purchase a paper written by professionals to get an example of good academic writing, which is also not a bad thing.
I recommend that you always make sure to submit original papers because teachers always check academic papers for plagiarism, and if you get caught cheating, it might have severe consequences for your academic career. I hope that this Ultius review will help you determine whether or not this service is the right choice for you.