EssayBox is a reputable essay writing company that has been providing students with custom-written papers since 2015. We have analyzed its key features and decided to figure out what makes it stand out among competitors. Read on to find out more!
The only way to determine whether or not a writing service is legit is to carefully analyze reviews. To write this Essaybox review, I've checked dozens of reviews on different platforms. EssayBox.org appears to be a legit writing service. Most of the feedback from customers is positive.
However, there are also negative reviews, which is also good because it means that the writing service is real. The thing is that many scammers post fake positive reviews, while even the best services out there have some unsatisfied customers. Even though it has some drawbacks, EssayBox is definitely a legit writing service. Let's consider it in more detail.
1. Order Process
To begin our EssayBox reivew, let's go through the order process. The first thing that grabs attention is the simple design of the website. Students who have never used writing services before shouldn't have any problems with using it because the design is clean and straightforward. The main page includes a price calculator so you can know the price of your order and make an informed decision. If you scroll the page down, you will also see the most important information about this service. This website offers all of the standard features. The company even promises that it has native English writers, but we will return to this later.
The order form might be confusing because it starts with step two out of four. On this page, you're being asked to provide your email, which might also be uncomfortable for people who care about their personal information. Nobody wants to receive spam and tons of marketing emails. However, the reason why you start with step two is that step one is your price calculator form. When evaluating the price of your order, you already provide some key information about it so the next step includes more specific details, such as additional services and your contact information.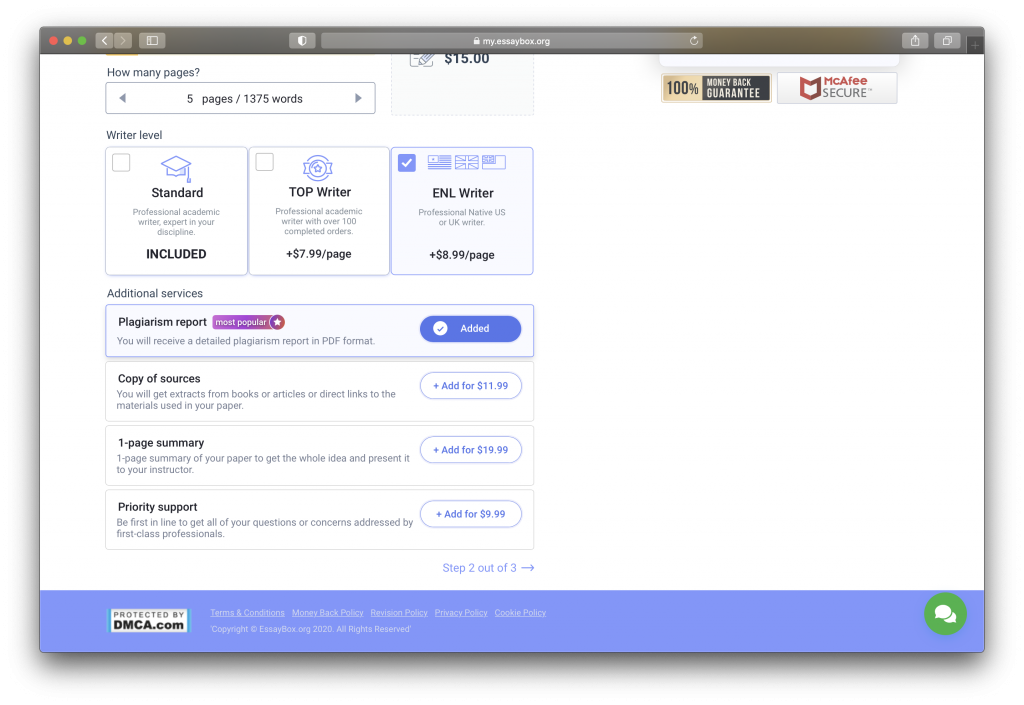 On this page, you need to provide the topic of your assignment and the deadline. Besides, you can select various extras. You can order a plagiarism report, editor's check, list of sources and their copies, a brief summary of your paper, VIP support, and additional writer options. For example, you can ask for a top writer or ENL writer. I will describe these extras in more detail further. Once you've selected all the additional options that you need and specified the details of your order, you can proceed right to the PayPal payment page. This might be a problem if you want to pay with your credit card. In this case, you will have to create a PayPal account, and this will take some time.
2. Pricing
The prices are not high but neither are they low. On the one hand, the service supports even orders with three-hour deadlines, and the company promises high-quality papers. On the other hand, I know many good writing services with lower prices so the quality to price ratio is not in balance here. For instance, a high-school essay delivered in 15 days will cost you $12 per page, which might look like a reasonable price. However, the company expects that you will spend more, and you almost certainly will because you might need some additional features.
For example, everyone wants their papers to be written by native English speakers. The fact that this company mentions ENL writers right on the main page might be a reason why many students choose this writing service. However, an ENL writer is an additional option, and if you want to request a native speaker, you will need to pay an additional $8.99 per page. Therefore, your order will now cost $20.98 per page, and that's for a high school essay!
Obviously, the company mostly works with ESL writers, and customers have to overpay for their orders to get an ENL writer, which is a problem. For $8.99 per page, you get a "skilled native UK or US writer" who has successfully completed at least 30 orders. However, having an average "skilled writer" may be not enough if you need a complex doctoral thesis. In this case, you can also pay for a "Top Writer" extra, and it will cost you $7.99 per page.
This is another reason why you may consider ordering your papers elsewhere. On the one hand, the company claims that all its writers are professionals who hold Ph.D. and Master's degrees. On the other hand, if you want your paper to be written by a top professional, you need to pay more. Another ripoff is a one-page summary of your paper. If you want such a thing, you can buy it for as much as $19.99. Of course, paying $2o so that the writer will spend five minutes briefly summarizing their work looks absolutely ridiculous.
3. Discounts
As you can see, the pricing policy is the main disadvantage of this writing service. Nevertheless, EssayBox also gives you an opportunity to save some money. Even though additional options will make you overpay, you can save money by making more orders. The rewards system is well-thought and clear. If you use EssayBox regularly, you may get back a certain percentage of the spent amount back to your account. There are three levels of rewards and your level increases with every few orders you place.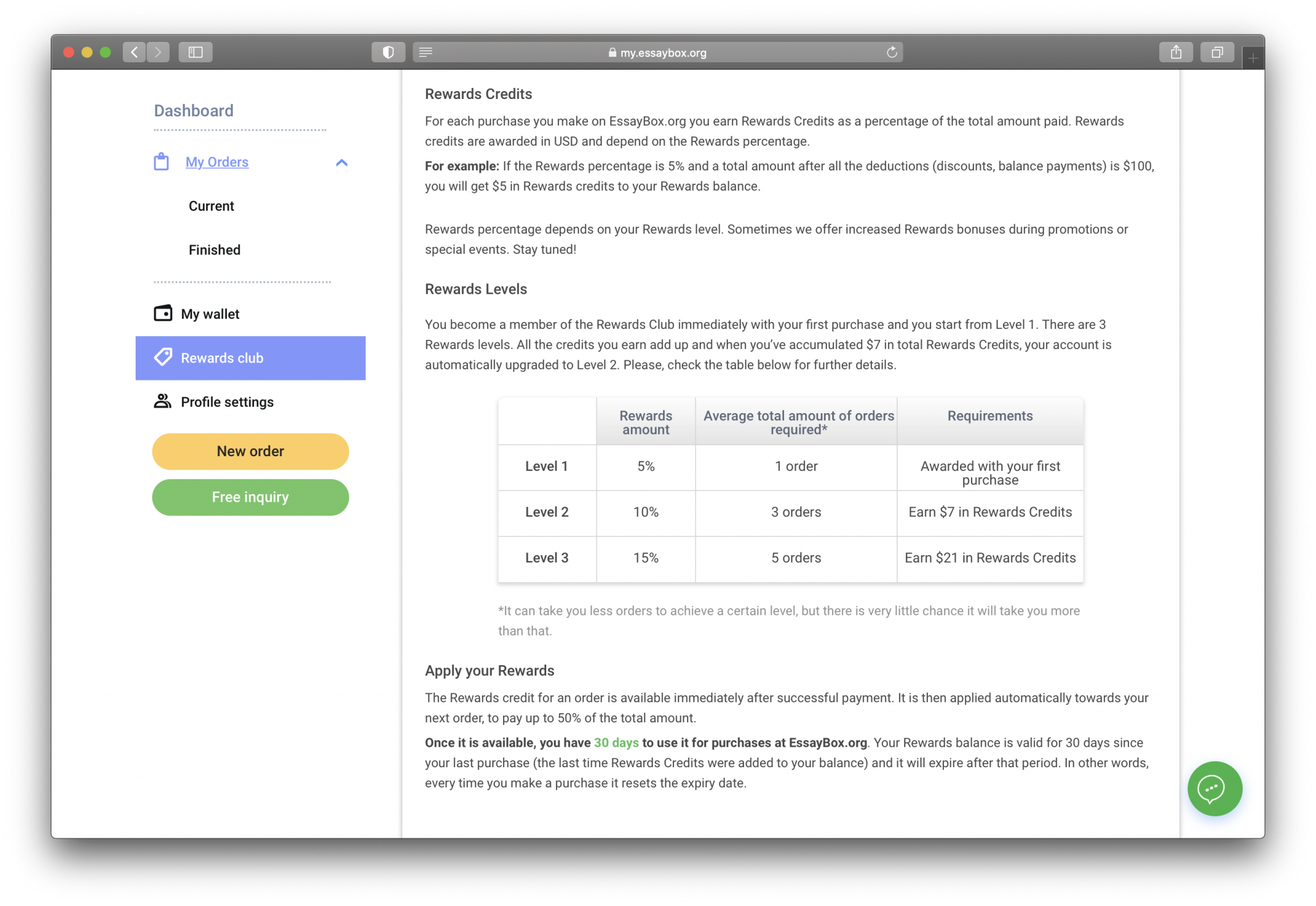 From the very first order with EssayBox you instantly get 5% back credited to your account. If you place 3 orders or more, you will reach the second level of rewards and start receiving 10% in credits from the amount paid. If you place more than 5 orders, you will start receiving 15% rewards credits. All these credits may be spent for new orders with EssayBox.
When placing an order on this website, there is also a field where you can enter a coupon code, which means that you may find EssayBox coupons on various forums dedicated to custom writing.
4. Guarantees
First of all, EssayBox guarantees that it will protect your privacy. The website even contains a specific Privacy Policy page, where you can learn what data this company collects and how it is used. This service also guarantees that your papers will be plagiarism-free. However, the most important things every customer wants to know about are the money-back guarantee and revision policy.
EssayBox offers a money-back guarantee, but it doesn't mean that you will necessarily be able to get all your money back (even thought they claim that you will). I recommend that you check out the Money Back Policy before making an order so that you can manage your expectations.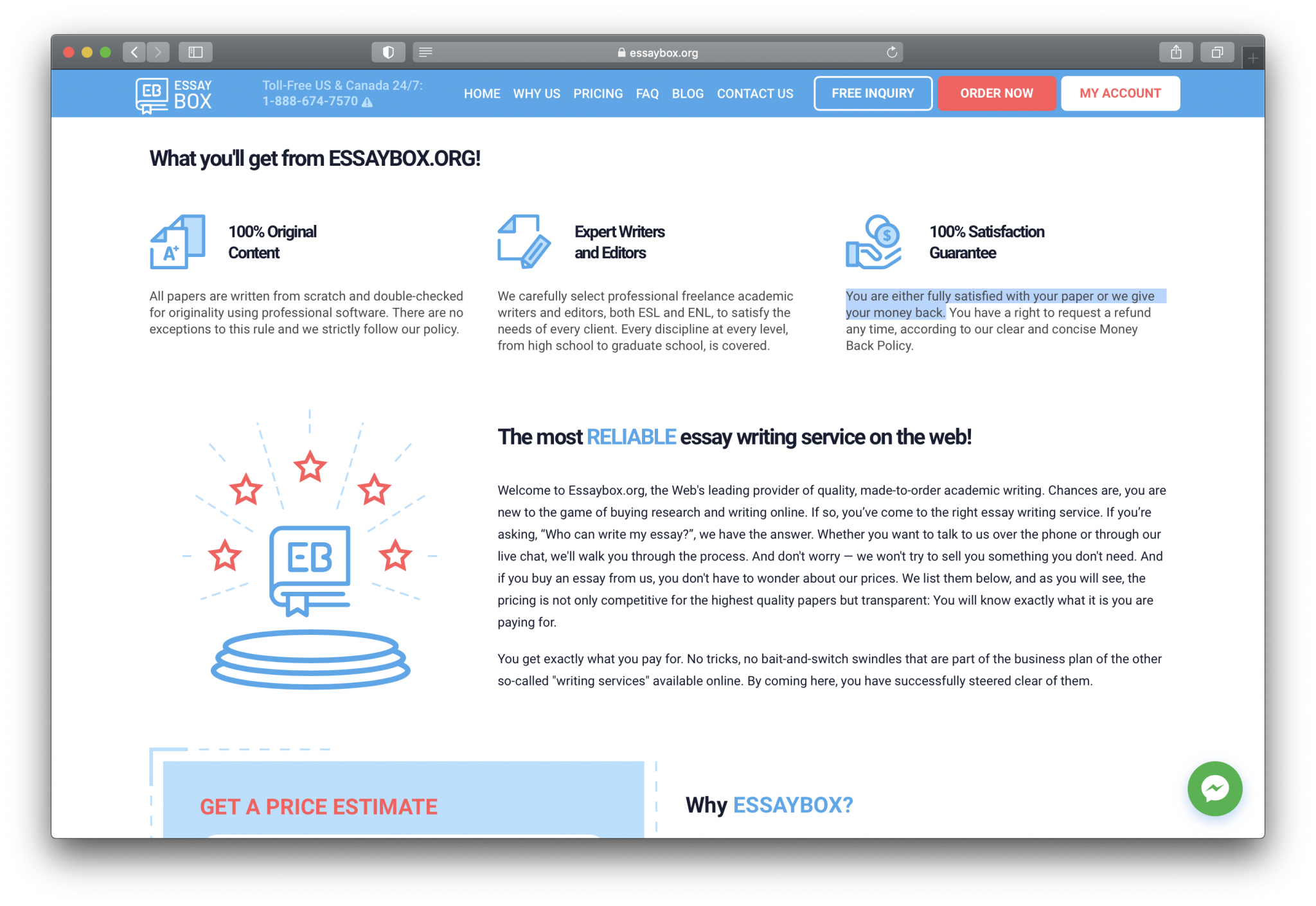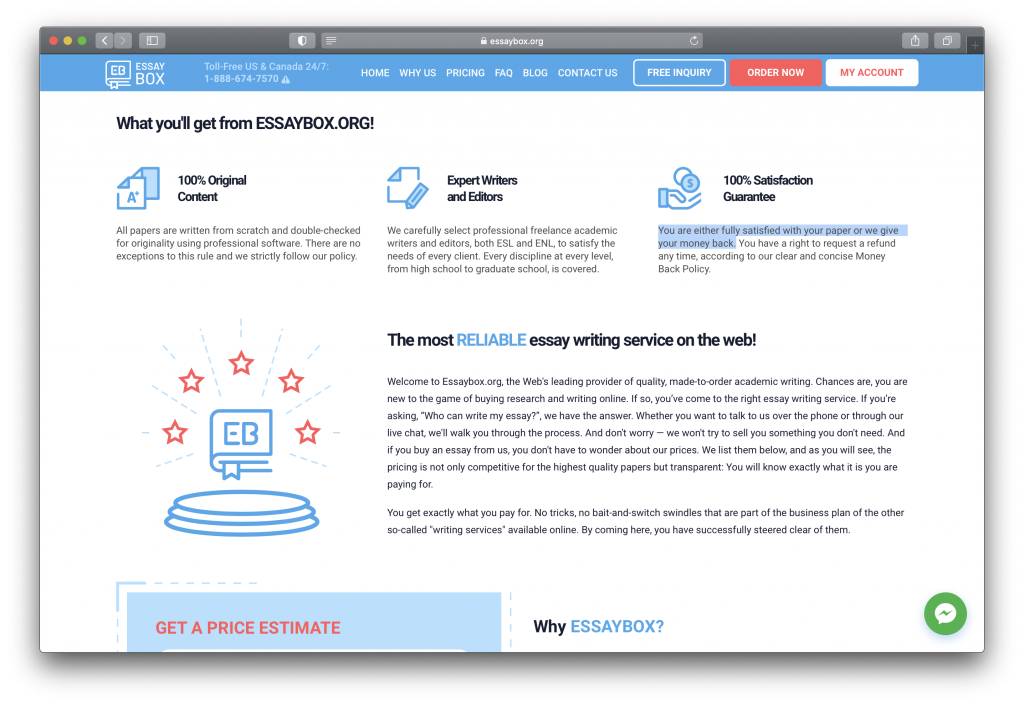 According to the Money Back Policy, you can only get a 100% refund if you cancel your order before it gets assigned to a writer. If the writer has already started to work on your paper, the refund amount won't exceed 70%, and if more than half of the deadline passed, you will only be able to get a 50% refund.
If you're not satisfied with the quality of your paper, you can also request a free revision. In this case, we also suggest that you familiarize yourself with the Free Revision Policy in advance. For instance, you can only request a free revision within 10 days since the delivery date. However, the good news is that this company offers unlimited free revisions. Therefore, the main thing is not to order your paper at the last moment so that you'll have some time for revisions. On the website, the company also notes that the 10-day period for revisions may be extended "in certain cases," when ordering lengthy dissertations or theses. When requesting a revision, you should also make sure that your new instructions don't contradict the initial ones.
5. Online Reputation
EssayBox is based in Ukraine, but owners of this website try to hide their identity. However, if you visit the company's Facebook page, you will find out that it has many positive EssayBox reviews posted by people from Kyiv, Ukraine, and the chances are that these reviews were written by the company's support agents. When I write reviews of writing services, I also always try to learn more about the history of each website.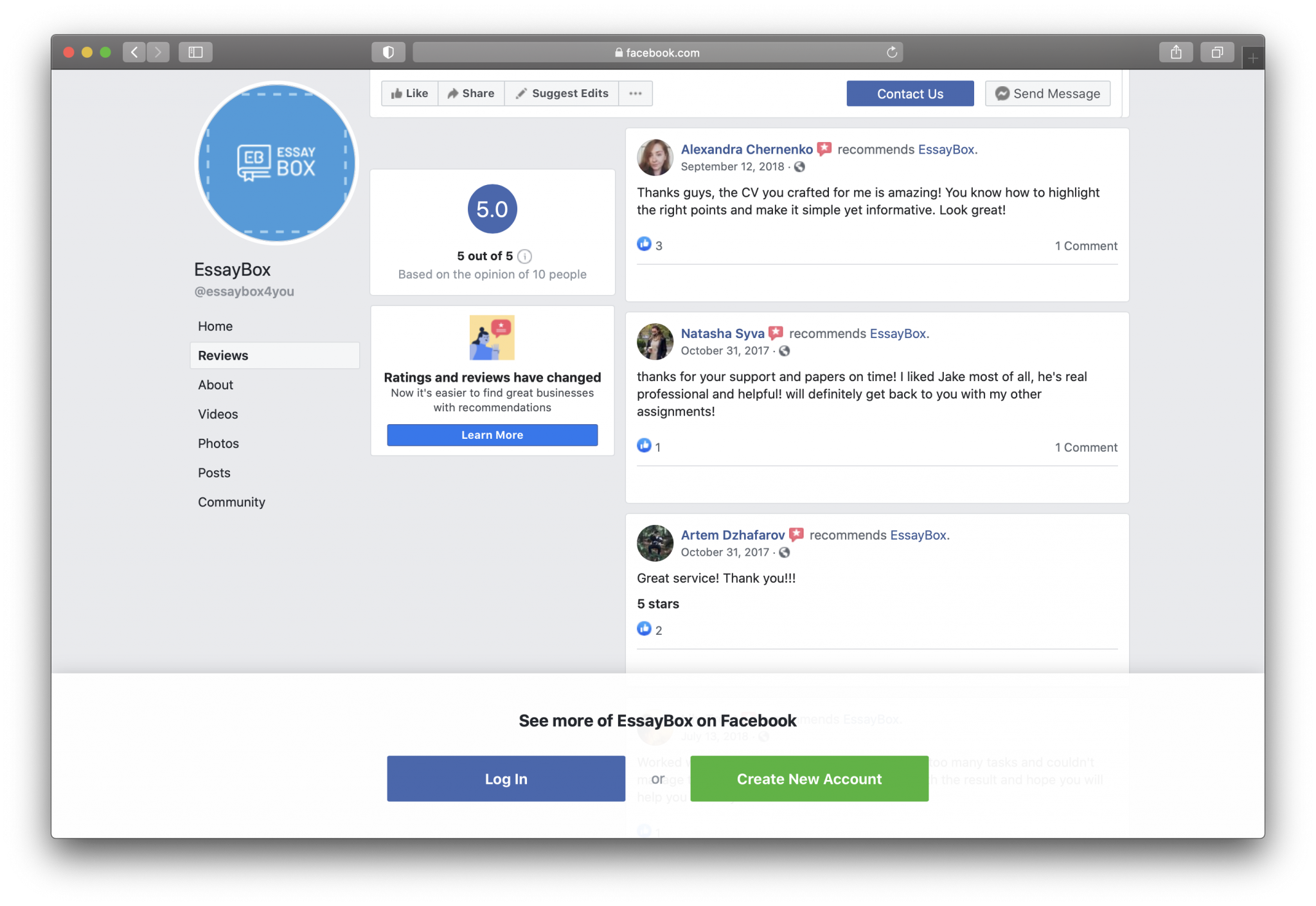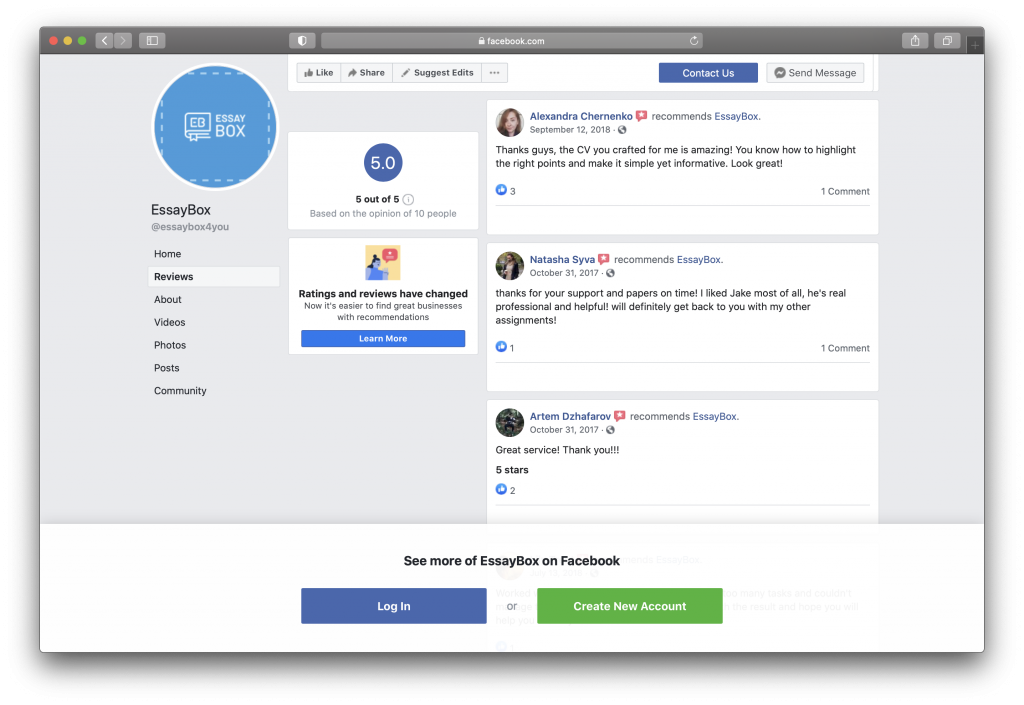 The thing is that the custom writing industry is extremely competitive. The companies that have survived in this business for many years usually turn out to be more reliable. Needless to say, they usually provide high-quality services. When researching EssayBox, I couldn't find the registration date of the domain. I could, however, find some statistics on the website traffic. The oldest information available is for 2017, so I think that this website is relatively new.
Anyway, the only right way to evaluate whether or not a website is trustworthy is to analyze customer reviews. I've already mentioned that many unreliable writing services have dozens of fake positive reviews so I immediately eliminated some well-known fake review websites. Fortunately, legit review portals like TrustPilot, Sitejabber, and IHateWritingEssays also have reviews of EssayBox, and most of them are positive. Nevertheless, some customers were unsatisfied with the poor formatting and the skill level of their writers. Apparently, there's no chance you'll get a paper written by a native English speaker unless you pay an additional $8.99.
On the one hand, the company promises that their papers are written by native speakers. On the other hand, it is only true if you pay for it separately. Most customers note that they received well-written papers and their reviews are great. However, a few negative EssayBox reviews make it clear that if you want to get a good paper here, you should pay more. Honestly, I don't know why this company didn't simply make all its services more expensive so that everyone can get a good writer. Probably, the reason is that this Ukrainian service doesn't have enough native English writers so having them as a separate option is the only solution.
6. Customer Support
The website includes a live chat so you can contact the support team in the easiest way possible and quickly get answers to your questions. Besides, you can contact the service via Facebook Messenger. You can also contact support representatives by phone, which is exactly what I did. I had a brief conversation with a support representative who claimed that the support team is based in Florida. She didn't, however, mention a more specific location.
Given that I heard a strong Slavic accent, it makes sense to assume that the support team isn't based in the US. Fortunately, I quickly got answers to all of my questions. The only negative thing about this conversation is that the support representative didn't tell me anything about their loyalty program, even though I asked her about it. Generally, my experience with the support team was rather good.
Pros
EssayBox has an easy to use website. If you have any questions about the services, you can quickly find answers on the website. The ordering process is fast and easy. Besides, there is a convenient price calculator.
The company also offers some great discounts.
The quality of writing is also good.
Cons
The pricing policy is certainly not the best. This service might seem to be affordable, but if you want to get a decent paper, you will need to overpay.
The company isn't clear about its writers' qualifications.
Summing Up: Is EssayBox Legit?
Given that this service has a good online reputation, this is definitely not a scam. Many students actually purchase good papers here, and you can find a lot of positive reviews from people who use this service. If you want my opinion, I think that it's a pretty average service and don't like the fact that this company has a bit sketchy pricing policy.
If you don't put enough effort into research and simply order a regular paper with no extras, the chances are that you will receive a mediocre paper that won't meet your expectations. Nevertheless, if you're ready to spend more money, you will most likely get a good paper. I hope that this Essaybox com review will help you make the right choice and avoid some common mistakes.