MyPerfectWords looks like a great website to buy an essay from. It offers an immediate 50% OFF discount on any academic papers whenever you visit its website. But is it worth it? Let's figure out in this review.
MyPerfectWords.com has a nice website with a minimalistic design. At first glance, this website looks no different from many other writing services. Just like many other companies, MyPerfectWords promises to deliver the best papers at a low price. Besides, this company offers a 50% discount on all of its services, which looks like a great opportunity to save some money. However, if you visit a few other websites from the custom-writing industry, you will quickly realize that the pieces are not so low. In fact, the prices are above average, and even a good discount wouldn't fix this situation.
Of course, high prices shouldn't stop you if you're looking for high-quality papers, but what you certainly should consider is a refund policy. You should make sure that you'll be able to get your money back, just in case something goes wrong. Unfortunately, this company doesn't offer a money-back guarantee. All reliable companies always have clear refund policies in place, but MyPerfectWords doesn't. Although it offers free revisions, I cannot say that this website is safe to use just because you won't be able to get your money back, even if you're completely unsatisfied with your experience.
The Ordering Process
MyPerfectWords has a simple order form. Perhaps, the only bad thing about this form is that you must provide your email and phone number from the very beginning. After this, you should provide the type of paper, its deadline, and academic level. At this point, you can evaluate the price of your order and specify some minor details that won't change the price. You can also attach any necessary documents. The good thing about this service is that you can pay half of the price of your order after you get your paper.
Prices
I've already mentioned that the prices are higher than average. When you visit the website, you can see that the company offers a 50% discount, as well as high prices without the discount. These prices, however, are just a result of a dishonest marketing approach. These prices are not real. First, the company offers a 50% discount all the time, despite the countdown on the website. Secondly, according to the website, the price of a college essay without a discount would be $36 per page, and I cannot believe anyone would pay such money. I know some reliable writing services with the best reputation where prices can be so high, but these companies have money-back guarantees and work with experienced ENL writers only.
The good news is that the 50% discount applies to all orders so the prices with a discount are real prices. Even these prices, however, are quite high and start at $15 per page for a high-school essay. There are many reliable services that provide top-notch papers and charge less. The high prices, however, are not the main problem with this service. Given that all prices are displayed with the imaginary 50% discount, this company doesn't provide any other discounts, and neither does it have a loyalty program. In other words, you will overpay no matter how many papers you order, and getting your money back isn't an option.
Guarantees
When I started to work on this review, I immediately decided to check the refund policy because this is what I always do when researching writing services. I couldn't find any information about the refund policy on the home page, and then I noticed that many customers complain about the refund policy online. Therefore, I visited the Terms of Service page, and this is where I got really disappointed. On this page, the company explicitly indicates that the "account balance on the website is non-refundable." The only situation in which you may be able to get your money back is when the company fails to find a writer for your order.
Online Reputation
It's impossible to determine whether or not a writing service is reliable without checking customer reviews. Unfortunately, I couldn't find any reviews of MyPerfectWords on Reddit, but I did find many reviews on Sitejabber and Trustpilot. MyPerfectWords has more than 150 reviews on each of these platforms, and the majority of these reviews are positive. However, I'm not sure whether or not these reviews are trustworthy. The thing is that all positive reviews are quite generic and don't provide any details about orders. Everyone who leaves a positive review gets a 10% discount so these users' motivation is questionable.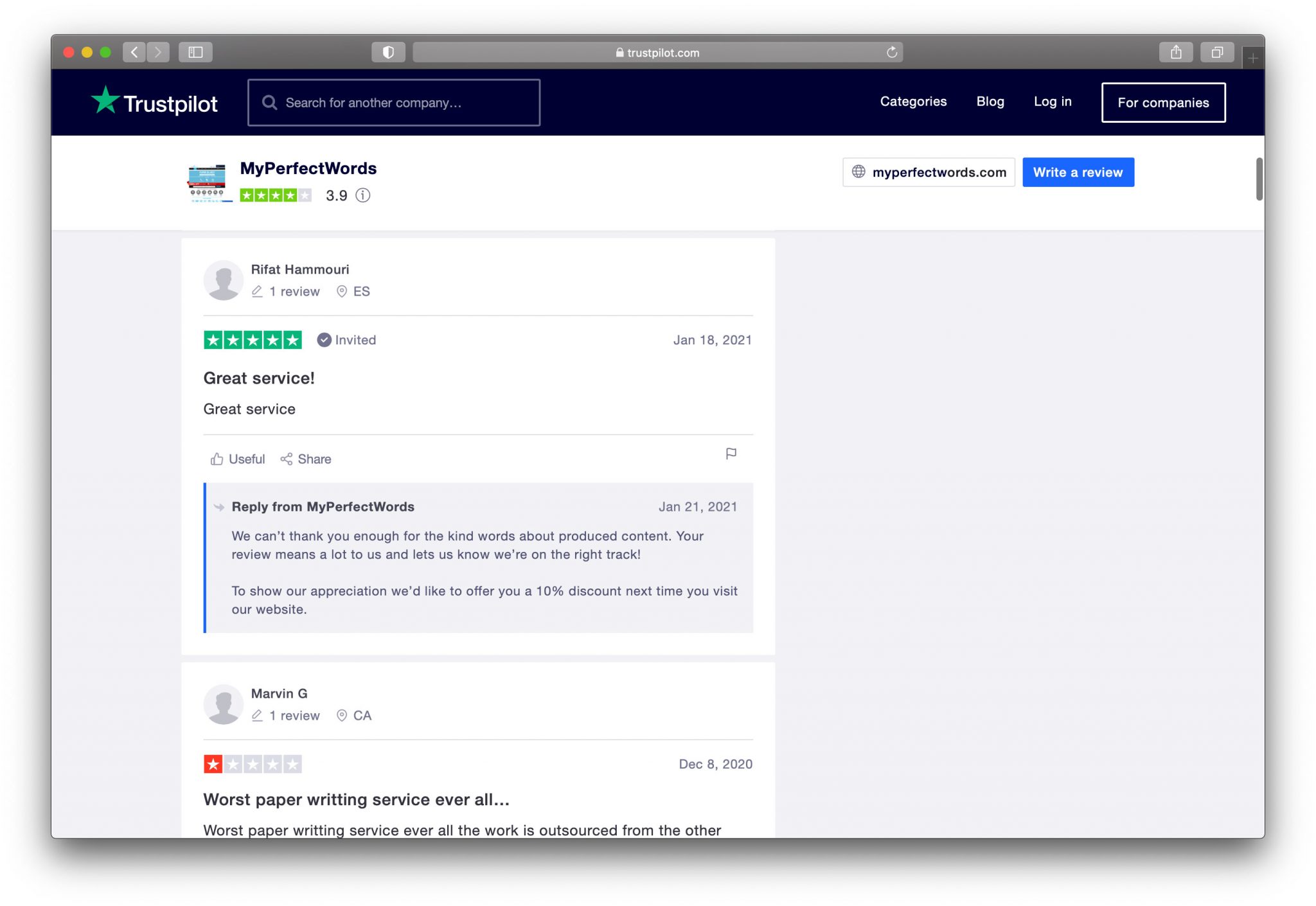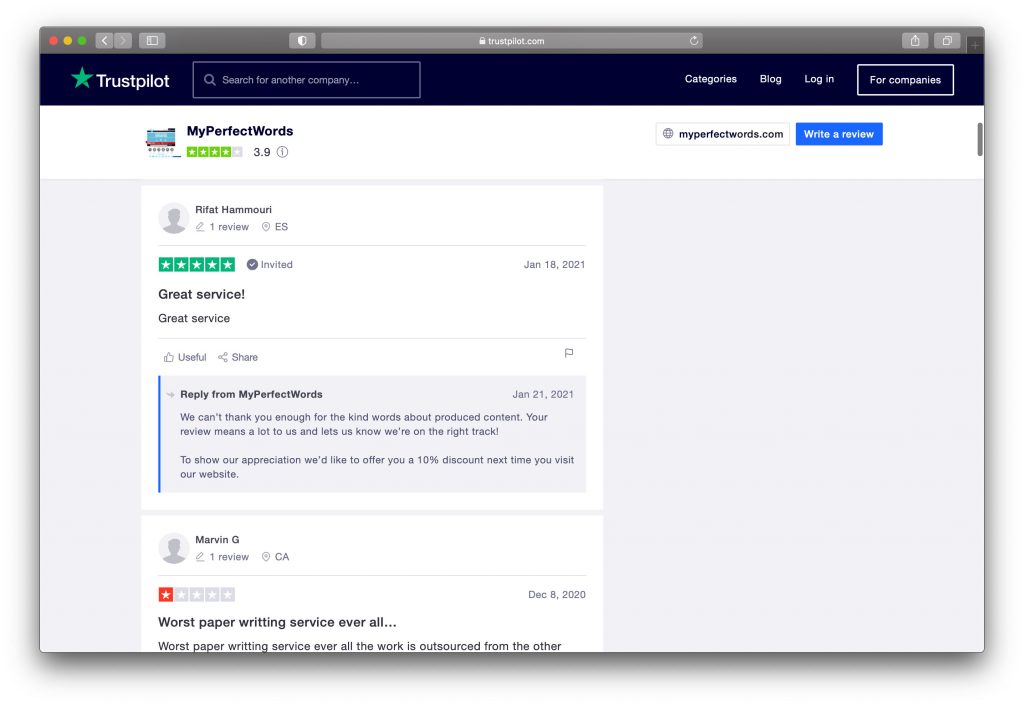 In contrast, negative reviews contain many details, and the support team doesn't seem to be interested in resolving any issues. Most customers who leave negative reviews emphasize the poor quality of writing, numerous grammar mistakes, and an inability to get their money back. Therefore, even though it seems like MyPerfectWords has a good online reputation, it's hard to call it a reliable writing service.
Customer Support
As soon as you open the MyPerfectWords website, you will get messages from the support team, which is a little annoying. The good news is that the support service is fast. The support team also replies to negative reviews on third-party review platforms, but all of these customers get the same reply — the support team just asks them to provide the number of orders to clarify the details. The reviews, however, are pretty detailed, and many customers note that they've talked to the support team many times before leaving negative feedback, but the support team didn't help.
Pros
An easy to use website
An opportunity to pay half of the price after delivery
Cons
No money-back policy
No discounts and no loyalty program
High prices despite the fake 50% discount
Controversial marketing tactics
Summing Up: Is MyPerfectWords Legit?
The only purpose of this review was to figure out whether or not MyPerfectWords is legit. Well, the lack of a refund policy and dishonest pricing are just two reasons why I cannot recommend this writing service. Is MyPerfectWords a scam? Probably not, because many customers seem to enjoy their experiences with this service. At the same time, when using this service, you should keep in mind that you won't be able to get your money back if anything goes wrong. You may give this service a shot, but you should be aware of the risk involved.